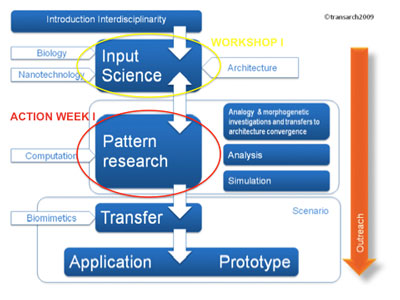 Dr. Barbara Imhof and Dr. Petra Gruber have started the Biornametics art-based research project exploring "Architecture defined by natural patterns."  They are collaborating with the University of Reading Center for Biomimetics as well as the Institute of Micro-engineering and Nanoelectronics, National University of Malaysia and the Institute of Applied Physics in Vienna Austria, there website has extensive coverage of their projects. read more below…
The group themselves describe their endeavors as follows:
BIORNAMETICS – Architecture Defined By Natural Patterns explores a new methodology to interconnect scientific evidence with creative design in the field of architecture. It takes on the history of one of the composed parts of this word "ornament" referring to Adolf Loos and extends into another: "biomimetics [bionik]". The "New Ornament" as an emerging contemporary design practice based on digital techniques that assembles from controlling programs and codes, less concerned with serial rationality but with algorithmic, digital operations and connecting the processes of planning and production.
There is MUCH more content on their website and we suggest anyone interested to definitely take a look.